These strawberry Santa desserts are so cute, they make a great dessert for holiday dinners and parties.
Get the kids involved in making your strawberry Santa desserts, they're fun to make and a healthy treat.  Use the pictures below for strawberry Santa inspiration.
Health & Nutrition Information
The Romans prized wild strawberries for their medicinal properties. Ounce for ounce, strawberries have more Vitamin C than citrus fruit. According to the American Cancer Society, foods rich in Vitamin C may lower the risk of cancers of the gastrointestinal tract.
Nutrition Facts
Serving Size: 1 cup sliced fresh strawberries (166 grams)
Calories 50
Protein 1 gram
Carbohydrates 11.65 grams
Dietary Fiber 3.81 grams
Calcium 23.24 mg
Iron 0.63 mg
Magnesium 16.60 mg
Phosphorus 31.54 mg
Potassium 44.82 mg
Selenium 1.16 mg
Vitamin C 94.12 mg
Folate 29.38 mcg
Vitamin A 44..82 IU
When Measuring Strawberries
1 1/2 pounds = 2 pints or 1 quart
1 small basket = 1 pint
1 pint = 3 1/4 cups whole berries
1 pint = 2 1/4 cups sliced berries
1 pint = 1 2/3 cup pureed berries
1 cup = about 4 ounces
Strawberry Santa Dessert Ideas: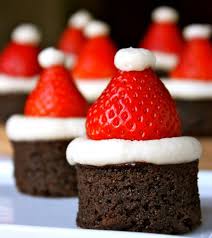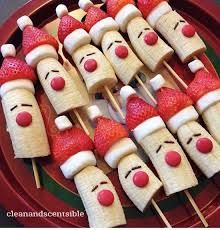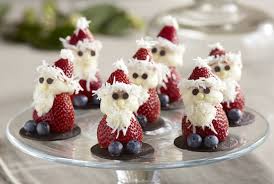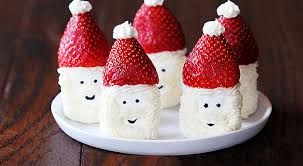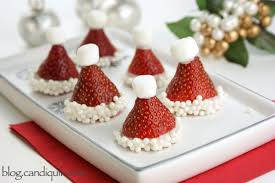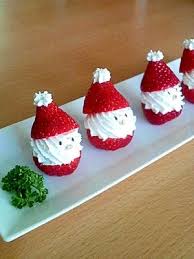 Amazon and the Amazon logo are trademarks of Amazon.com, Inc, or its affiliates. Moms Treasure Chest is a participant in the Amazon Services LLC Associates Program, an affiliate advertising program designed to provide a means for sites to earn advertising fees by advertising and linking to Amazon.com. When you buy through links on our site, we may earn an affiliate commission at no added cost to you.  
Recent Posts by Moms Treasure Chest: