Sugar Cookie Recipe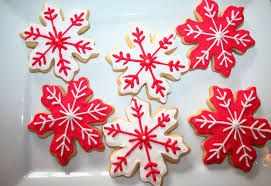 2 sticks of butter, softened
1 cup of granulated white sugar
1 teaspoon vanilla extract
1/2 teaspoon almond extract
1 egg
3 cups all purpose flour
2 teaspoons of baking powder
Directions:
Preheat oven to 350 degrees F
Cream butter and sugar with mixer until smooth and fluffy
Add egg, vanilla and almond extract, beat well
Slowly add flour and baking powder to mixing bowl and continue to mix until combined, if dough gets too thick for mixer you can finish mixing by hand
Roll out dough in small batches on floured surface, cut with flour dipped cookie cutters and bake for 5 to 8 minutes.  Let cookies cool a little on cookie sheet and then transfer to a wire rack to cool completely.  Frost and enjoy!
Use this easy cutout cookie recipe for all your holiday cookies; Thanksgiving, Christmas, Halloween, Easter, Birthdays and more!
Amazon and the Amazon logo are trademarks of Amazon.com, Inc, or its affiliates. Moms Treasure Chest is a participant in the Amazon Services LLC Associates Program, an affiliate advertising program designed to provide a means for sites to earn advertising fees by advertising and linking to Amazon.com. When you buy through links on our site, we may earn an affiliate commission at no added cost to you.  
Recent Posts by Moms Treasure Chest: