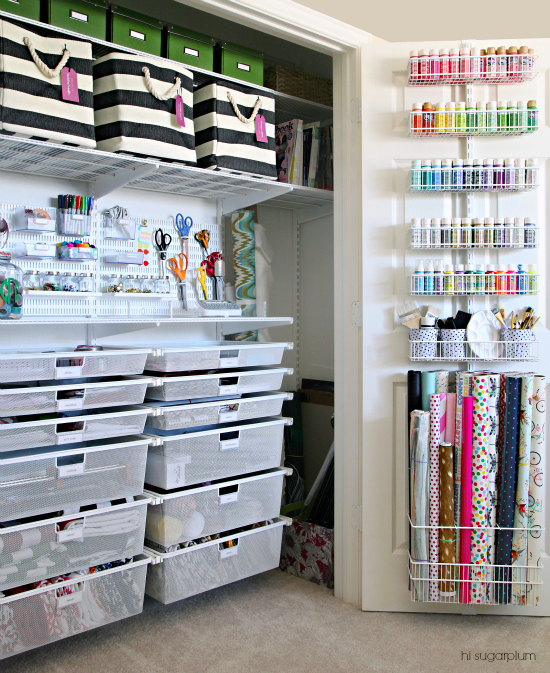 Craft Supplies Storage Solutions
Acquiring craft supplies is the fun part, storing them is another story, and a challenge.   Do you wish for the dream craft room, a bright and pretty place filled with bins, drawers, shelves and cabinets to store your multitude of craft supplies? Here are some crafters who have have created some pretty awesome crafting rooms filled with good ideas for storing craft supplies.  Take a look and be inspired to use some of their storage ideas in your own craft closet or craft room.
Craft supplies are pretty in pink in this craft room.  The fabric bins are great for storing arts and crafts odds and ends.  The bars for storing craft ribbons are easy to add to any craft room, and the scrapbook paper shelves are perfect for storing a variety of sizes of scrapbook papers.
This bookshelf painted shabby-chic makes a great fabric storage area:
This is a great storage idea for crafters with lots of little ribbons, jewelry making supplies, beads and such.  You can buy these bins at your local Dollar Tree store for just $1 each.  You can buy a variety of plastic storage containers at your local Walmart or Closet Store.  Clear plastic containers are ideal for craft storage because you can see the craft supplies in the bins without having to pull out everything to find what you need.  To buy a shelving unit try a thrift store or Ikea: