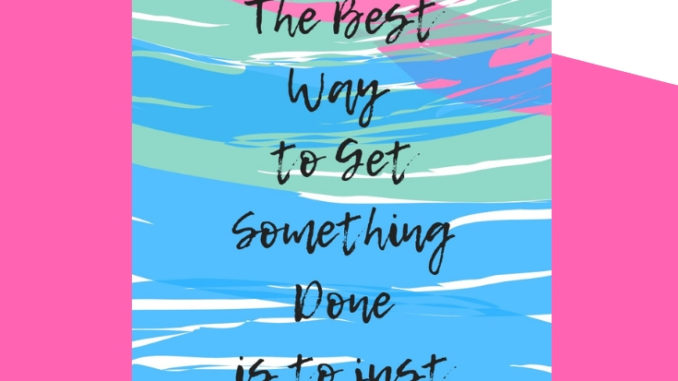 As someone famous once said, a journey of a thousand miles begins with a single step.  Just taking that single first step is sometimes the hardest part of doing something…just getting started, especially with projects or decluttering can be daunting.  And then, it seems that once you get started you build momentum and you want to keep going.  Losing weight can can be the same way, we need a jumpstart to start losing weight.
First, to start losing weight you need a plan.  However, losing weight takes a bit more than desire and a plan. It takes commitment and a well-thought-out plan.  Here is a step-by-step guide to getting started.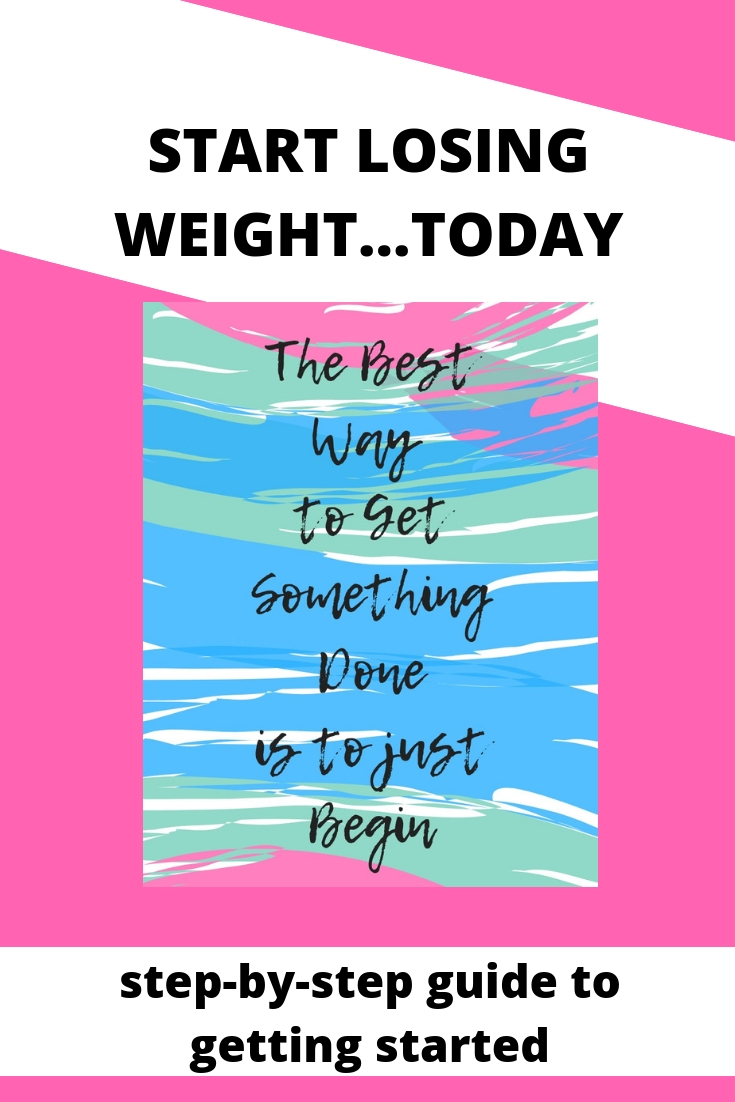 Step 1:  Make a Written Commitment to Start Losing Weight
Making the decision to lose weight, change your lifestyle, and become healthier is a big step to take. Start simply, by making a written commitment to yourself and the process you will undertake to start losing weight.  This contract may include things like:
the amount of weight you want to lose or
the date you'd like to lose the weight by or
dietary changes you'll make to establish healthy eating habits or
a plan for getting regular physical activity or
all of the above
No pressure here, just write a paragraph or bullet points on an index card listing the things you want to commit to…don't overdo it, keep it simple, and put the card in your wallet.
Writing down the reasons why you want to lose weight can also help. It might be because you have a family history of heart disease, or because you want to see your kids get married, or simply because you want to feel better in your clothes.  You could post these reasons where they serve as a daily reminder of why you want to make this change.
Step 2: Take Stock of Where You Are
Make a doctor's appointment.  Have your height, weight, and blood pressure checked, also have blood work done to check  your cholesterol, a1c,  vitamin d and b12 levels, etc. Before you leave the doctor's office make a follow-up appointment for 4-5 months from your current appointment.  It'll be a good check-in to see how all your numbers have changed.  Keep the 2nd appointment, don't cancel it, no matter how good or bad you did trying to start losing weight this time.
Keep a "food that I've eaten list" for a few days, write down everything you eat each day, and what time you ate it on an index card.  By doing this, you become more aware of what you are eating and when you are eating. This awareness can help you avoid mindless eating.
Think about aspects of your lifestyle where you can make small shifts that can help you lose weight.  For example, is there an area near your workplace where you can take a walk at lunchtime or could you walk the stairs in your building during your break time? Can you commit to going to the gym a couple days a week – can you afford to join a local gym like Planet Fitness which has relatively inexpensive monthly fees?  Instead of white bread can you eat wheat or whole grain bread, instead of chocolate chip cookies can you eat graham crackers? Can you cut out soda and fruit juice, wine and cocktails, and drink more water?  Small changes add up, and any one of them done consistently can help you start losing weight.
Step 3: Set Realistic Goals for Losing Weight
Set some short-term goals and reward your efforts along the way. If your long-term goal is to lose 40 pounds and to control your high blood pressure, some short-term eating and physical activity goals might be to start eating breakfast, taking a 15 minute walk every other day, having a salad daily, adding an extra vegetable to dinner. Write down your short term goals on an index card, keep it in your wallet.
Focus on two or three goals at a time. Great, effective goals are —
Specific
Realistic
Forgiving (less than perfect)
For example, "Exercise More" is not a specific goal. But if you say, "I will walk 15 minutes, 3 days a week for the first week," you are setting a specific and realistic goal for the first week.
Remember, small changes every day can lead to big results in the long run. Also remember that realistic goals are achievable goals. By achieving your short-term goals day-by-day, you'll feel good about your progress and be motivated to continue. Setting unrealistic goals, such as losing 20 pounds in 3 weeks, can leave you feeling defeated and frustrated.
Being realistic also means expecting occasional setbacks. Setbacks happen when you get away from your plan for whatever reason – maybe the holidays, longer work hours, or another life change. When setbacks happen, get back on track as quickly as possible. Also take some time to think about what you would do differently if a similar situation happens, to prevent setbacks.
Keep in mind everyone is different – what works for someone else might not be right for you. Just because your neighbor lost weight by taking up running, doesn't mean running is the best option for you. Try a variety of activities – walking, swimming, tennis, or group exercise classes to see what you enjoy most and can fit into your life. These activities will be easier to stick with over the long term.
Step 4: Identify resources for information and support
Apps for your phone are a great source of information and support, the myfitness pal app is a terrific one.  If you can afford it, a fitbit is a helpful tool to support when trying to lose weight, it helps us realize the true amount of time we've been active.  Find tools online that will help you with meal planning, recipes, calorie countiing, whatever works for you personally.
If you're more social,  you can try to find family members or friends who will support your weight loss efforts. Making lifestyle changes can feel easier when you have others you can talk to and rely on for support. You might have coworkers or neighbors with similar goals, and together you can share healthful recipes and plan group exercise.
Joining a weight loss group or visiting a health care professional such as a registered dietitian, can help.
Step 5: Continually "check in" with yourself to monitor your progress.
Revisit the goals you set for yourself (in Step 3) and evaluate your progress regularly. If you set a goal to walk each morning but are having trouble fitting it in before work, see if you can shift your work hours or if you can get your walk in at lunchtime or after work. Evaluate which parts of your plan are working well and which ones need tweaking. Then rewrite your goals and plan accordingly.
If you are consistently achieving a particular goal, add a new goal to help you continue on your pathway to success.
Reward yourself for your successes! Recognize when you're meeting your goals and be proud of your progress. Use non-food rewards, such as a trip to the movies, a special purchase, but yourself that fitbit.  Rewards can help keep you motivated on the path to better health.