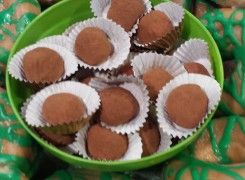 These sweet coconut candies covered in cinnamon are delicious any time of year, not just St. Patrick's Day!  Although they're called Irish Potatoes, most recipes don't have potatoes, just confectioners sugar!  This recipe is an adults only version with the addition of coconut rum!
Ingredients:  1 lb confectioners sugar, 1/2 stick butter, 4oz cream cheese, 1 teaspoon Malibu coconut rum, 1 cup coconut, 1 teaspoon light Karo syrup, small bowl of ground cinnamon.
Directions:  Beat cream cheese and butter, add coconut rum and Karo, add sugar gradually and mix well till combined, add coconut, mix well.  Refrigerate for 30 minutes.  Shape into 1 inch balls, roll in cinnamon, place on wax paper to dry.  Enjoy!