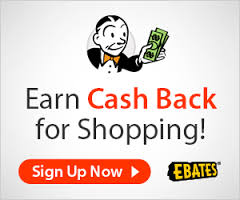 Click here to join Ebates and make money by starting your online shopping at the Ebates website.
Ebates is one of the largest loyalty programs in the US, were Moms make hundreds of dollars every month by starting their shopping at their favorite stores by first signing in at Ebates. Here's the chance for you to save money for your family and make money at the same time.
Joining Ebates is always free – and four times a year or more, they'll mail you a Big Fat Check, or transfer the money to your PayPal account if you'd prefer. They can even send the money to your favorite charity. All 100% free.
About Ebates
Since their founding in 1999, Ebates has helped its members — 10 million and counting — earn over $1 billion in Cash Back at their favorite stores. By connecting these savvy shoppers with America's best brands, they provide a hassle-free way to save money on the things you buy every day. That's how we've become one of the largest free-membership loyalty programs in the U.S., with an A+ rating from the Better Business Bureau.