Easy Salad Recipe:  Cucumber Mango Salad
Cucumbers:
• Rinse cucumbers well and scrub outer layer
well before eating or using in recipes.
• Cucumbers can be eaten with the peel after
rinsing and scrubbing. They can also be peeled
with a vegetable peeler or knife.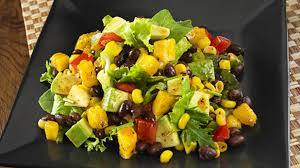 This salad is quick, easy & refreshing!
2 ripe mangoes, peeled, seeded, and thinly sliced
1 large cucumber, peeled, seeded and chopped
1 cup black beans from a can, drained
1/4 cup fresh cilantro leaves, finely chopped
2 cups Romaine lettuce, chopped
2 tablespoons fresh lime juice
1 tablespoon honey
pinch of sea salt
In a large bowl toss all ingredients to combine, refrigerate for 20 minutes, serve & enjoy!