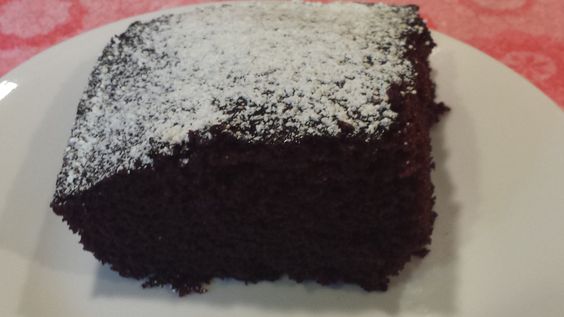 Chocolate Cake Recipe
Chocolate Wacky Cake is an old-time favorite.  It is also our family's favorite go to chocolate cake.  It's a moist, cocoa based cake, and once you make this recipe it may become your favorite easy chocolate cake recipe.  It's a unique recipe since, unlike most cakes and desserts, there are no eggs, butter or milk.  Therefore, it's a convenient cake too, because most of us usually have the Wacky Cake ingredients in our pantries at all times.
When the Great Depression hit  following the Stock Market Crash of 1929, families were forced to stretch their budgets and "make do".  They used  minimal and cheap ingredients when it came to cooking. Some women were able to feed their families on $5 per week.  Dessert was a luxury for most, and depression cake was a good alternative.  It is a more affordable alternative to other cakes that used milk, eggs, and butter.  Depression cake is just one of many examples of ingredient substitution during the Great Depression, as some women took full advantage of the practice by making mock foods such as mock apple pie.
Wacky Cake is Born
The ingredients in this chocolate cake include flour, sugar, cocoa powder, baking soda, vegetable oil, white vinegar and vanilla extract.  You can top your chocolate Wacky Cake with icing or confectioner's sugar, or even serve it plain.
Chocolate Wacky cake is even better served the next day; it is more moist and delicious.  Give this recipe a try, it may become your go-to recipe to bake a cake for a quick dessert or birthday celebration.
Here is the Wacky Cake recipe:
Ingredients
3 cups Flour
2 cups Sugar
3/4 cup Cocoa Powder
2 teaspoons Baking Soda
1 teaspoon Salt
1 cup Vegetable Oil
2 cups Water
2 tablespoons Vanilla Extract
2 tablespoons White Vinegar
 Directions
Preheat oven to 350 degrees. Spray a 9×13 pan with cooking spray.
Mix dry ingredients in a large bowl.
Add the wet ingredients one by one to the dry ingredients and mix well either by hand or low speed on mixer.
Bake 30-40 minutes at 350 degrees until a toothpick inserted in center of cake comes out clean.
Cool cake, sprinkle top with powdered sugar and enjoy!