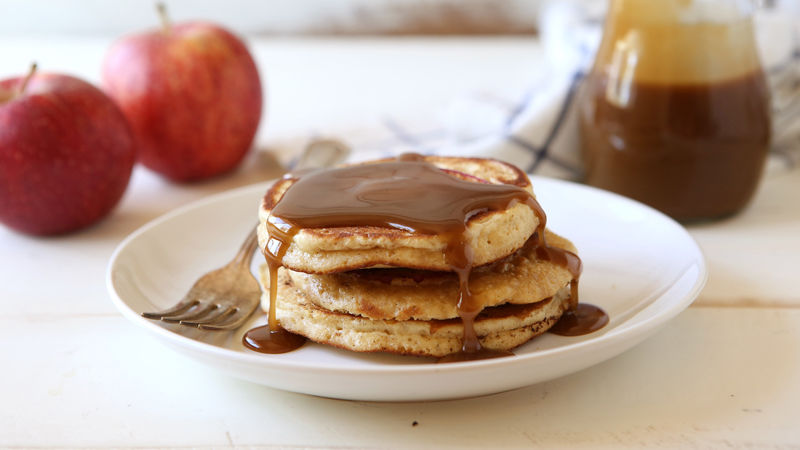 Caramel Apple Pancakes Ingredients
Syrup
1/4 cup butter
1 cup packed brown sugar
2 tablespoons water
1/2 teaspoon vanilla
Pancakes
2 cups Original Bisquick™
mix
1 cup milk
2 eggs
1/4 teaspoon ground
cinnamon
1 teaspoon vanilla
Butter for greasing skillet
2 large apples, peeled, cored
and thinly sliced into
round
Steps
To make syrup, melt 1/4 cup butter in 1-quart saucepan over medium heat. Add brown sugar; stir until dissolved. Add water; heat to boiling. Simmer 3 minutes, stirring frequently, until slightly thickened. Remove from heat; add 1/2 teaspoon vanilla.

To make pancake batter, in large bowl, beat Bisquick™ mix, milk, eggs, cinnamon and 1 teaspoon vanilla with whisk.

Heat skillet over medium heat; grease with butter. Pour 1/4 cupfuls batter into skillet. Once batter has stopped spreading and begins to set, place 1 apple round on top of each. Cook 2 to 3 minutes longer or until bubbles appear at surface and edges are dry. Turn; cook 2 minutes longer or until browned. Repeat with remaining batter, greasing skillet before each to prevent apple slices from sticking.

Serve immediately with syrup.